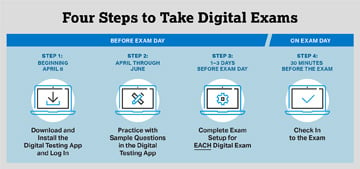 Millions of students who have worked hard at their coursework throughout the year are preparing to take AP Exams this spring, allowing them to earn college credit and placement. To help meet the needs of schools and their students, the AP Program is providing as much flexibility as possible for this year's AP Exams. This year, schools across the country will decide whether to administer traditional paper-and-pencil exams, digital exams, or both to their students. The 2021 AP Exam schedule has three testing dates for each subject between early May and mid-June. Schools can choose a mix of at-home digital and in-person exams and mix testing dates, as needed. Whether paper-and-pencil or digital, all AP exams will be full-length. As in the past, AP Exams will measure the full scope of a first-year college-level course and colleges will award credit and placement for scores of 3 or higher. By taking AP exams, students will have the opportunity to earn the college credit and placement they've been working toward all year. As the 2021 AP Exam administration approaches, the College Board has introduced a digital testing app and digital practice for students who will be taking digital AP Exams, either at home or in school. Students can get ready for digital exams by downloading and installing the
new digital testing application
 and 
begin practicing
 with sample questions in the app. We have a few more tips for students taking digital tests:
Students should download the application and practice using the same device to test.
Students must complete exam setup 1-3 days before each exam they're taking.
Students need to check in 30 minutes before the start of their digital exam. Students should ensure they know what time the exam starts in their time zone.
Students can only test on laptops or desktop computers (Mac, Windows, or school-managed Chromebook). A managed device means your school controls the programs that are installed.
The testing application keeps students from losing their work, even if their Internet goes out.
There won't be any handwritten responses on digital exams; all answers can be done directly in the testing app.
Students will be able to request a makeup exam if they experience an unavoidable test disruption.
All students have access to free 
AP Daily
 videos and 
AP Daily: Live Review
 sessions, which are accessible through 
AP Classroom
 on the 
College Board website
. AP Daily has over 21 million full video views since September 2020, and AP Daily: Live Review sessions will be held on YouTube from April 19-29 to help students review course content and skills before exams. Students are encouraged to talk with their teachers about the best ways to practice before their exams. Teachers can also assign videos to students and track which students watch. Details about AP Exams will be updated regularly on the College Board website and shared through email, online educators' communities, and other social media.